I watch the nominees of every year, but
the last post I did was in 2015
. Pleasingly there was a very good crop of animated shorts this year.
Could Kobe Bryant win an Oscar? The first short was a very touching love-letter about the game which made Bryant who he is, a thank you for the years of fame and pleasure. I found myself unexpectedly moved, although perhaps a score by John Williams was mostly responsible. The animation admitted;y was very good, but in all the sentiment was a bit... repetitive.
Second, Negative Space was a pleasing stop-motion animation. It seems as though every year the Academy has to nominate a short with tragic father issues, and this certainly fits that bill. I would not mind if this won, however. It's French and has those vibes, a 'My Life as Zucchini' feel (admittedly I didn't watch that film, but I felt like I didn't have to to get the Frenchness of it.) Besides Dear Basketball, starting with Negative Space, all the others had foreboding and dark themes, and humor.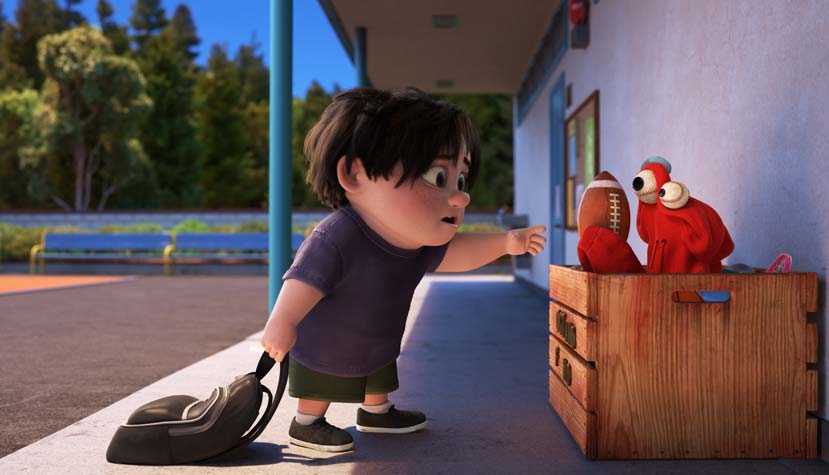 Lou follows. It's Pixar's offering, and features the increasingly standardized Disney-Pixar humans, children on a playground this time, and a powerful Eldritch God named Lou, immortal and mighty, who keeps the guise of an assemblage of Lost and Found items, waiting in a bin to lure unsuspecting victims in and devour their souls. Or so I hoped. But instead the lesson is bullying is bad but bullies are broken too, and Lou is more of a Giving Tree type. Pity.
I was particularly fond of Revolting Rhymes Part One. At 29 minutes it told a long, very funny, updated, Roald Dahl version of Snow White, Little Red Riding Hood, and The Three Little Pigs. The voice acting was good, it was genuinely amusing and fresh: an animated short I would want to show my own kids someday. The style was well-done, too, and the BBC talent (Rob Brydon!) was top-tier. Both directors have been up for the Oscar before, for Room on the Broom and The Gruffalo. Maybe this is their year?
That said, the final installment, Garden Party, was absolutely amazing. It pushed the boundaries of animation into new territories of sophistication, told an excellent story, was provocative as well as laugh-out-loud funny, and had frogs. It is my clear choice for best film and most deserving of the Oscar. It should also win Best Picture.
Even if Lou or Dear Basketball wins, though, it won't be a bad year. Lou is sappy, but it's not a bad film. Dear Basketball is trite, but really very well-animated.
Honorable Mentions:
In between the nominees there were these odd interludes about a blue monster and a yellow monster. They were kind of funny. French, I think... The other Highly Commended selections were:
Lost Property Office. A rather bleak short with a slightly uplifting message at the end. He keeps lost things, the color palette is sepia, you get the idea.
Achoo. A racist and generally awful French short that makes fun of the Chinese and plays to the lowest common denominator and oh my God.
Weeds. So ridiculously, over-the-top, saccharine it almost reaches "so bad it's good" territory. Not very well animated, though.