Here are five pieces of media which were very influential for me.
1. The Movie: The Three Caballeros
This movie is so weird. Of the 1940s Disney package films, this one takes the cake for surrealism. There is no real plot, hardly any character development, just a few shorts in a frame story followed by a reverie of live action and travelogue through Latin America.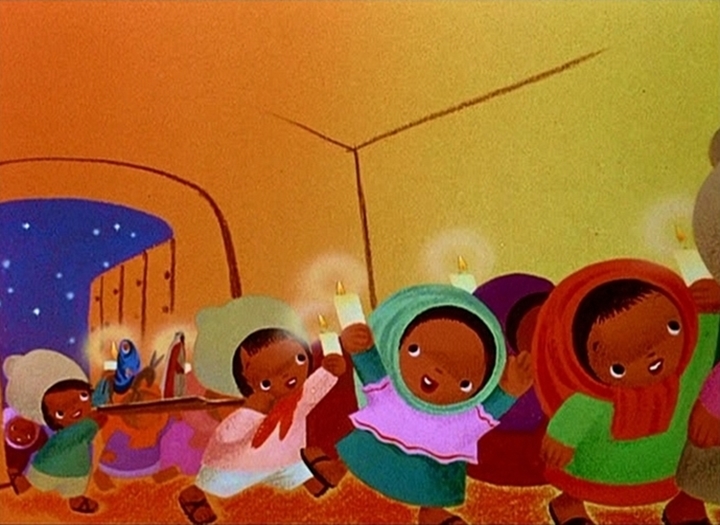 Why is it important?
1) I saw this as a young kid and definitely didn't know movies could be so wildly free-form. It got me interested in experimental film narratives and surrealism.
2) For better or worse, it was an interesting introduction to Latin America, at least...
3) through the lens of the 1940s. The live action was so clearly of another era. I realized it was a glimpse into what must be a forgotten time, and it intrigued me immensely that a small slice was preserved. Documentaries, history, the past - this film planted those seeds to see the world as it once was and is no longer.
4) Mary Blair, the head artist, is awesome, and I consider her films in the Disney canon to be the most artistically valuable (Alice in Wonderland, Sleeping Beauty).
2. The Album: Go Soundtrack
The soundtrack to the late-90s film 'Go', about the California rave scene and party culture for young adults (I think. I have not watched this movie in a very long time.)
Why is it important?
1) The first album I bought for myself (because my sister had it).
2) I was really intrigued by America in the late 90s. Everything was so optimistic, slick and digital (especially in the Bay Area). Yet there was this underbelly, a warehouse-aesthetic of secrets, dark shadows in the nightlife of the vibrant, connected city. This album represented that mysterious fringe to me. It encapsulated the feeling of exploration, of horizons, and experiences utterly alien to my own during a time which, I would reflect on later, was historically unique.
3) Electronic music and pop music. This was my introduction to both - my parents didn't listen to either genre on the radio, Top 40 wasn't part of my childhood. This coincided with the end of middle school, and I was just the right age to go to Tower Records and find CDs I wanted. I still like electronica to this day.
3. The Book: Ishmael by Daniel Quinn
A man answers an ad to save the world, which leads to becoming the disciple of a gorilla with deep knowledge about human nature.
"The premise of the Taker story is 'the world belongs to man'. … The premise of the Leaver story is 'man belongs to the world'."
Why is it important?
1) I grew up curious, like the above intrigue into the underground world of 'Go', but more or less not questioning my world. Ishmael, encountered in high school, changed all that. I began to fundamentally question how the world works, what deep patterns may be present, how things could be different. Everything came up for grabs during adolescence, and here was a work that said civilization itself was arbitrary, and more to the point, mad. It came at the perfect age to question why anything we do is 'right' or 'necessary'.
2) For about four years, two in high school and two in college, I was pretty obsessed with Quinn's two volumes,

Ishmael

and

The Story of B

. As offshoots of their teachings I got interested in anthropology, sustainability, and population. From these origins I got into Amory Lovins, Michael Pollan, Jared Diamond, and so forth. I made signs and went to parking lots in supermarkets talking to people about

overpopulation

and food production. I worked on designing solar panels for buildings, went to lectures in San Francisco and the Rocky Mountain Institute in Colorado, volunteered on

archaeological

digs, and was a self-righteous ass in Anthro 101.
4. The Show: Connections (1978)
A program in which science historian James Burke describes how the story of history is not linear, but tangled, complex, and surprising. He traces the ten most important inventions of the modern world from their unexpected and unrelated origins to the present day, and attempts to look a little ways into the future.
Why is it important?
1) Burke got me interested in history, which is now my profession. More than that, I take time each year to introduce a new generation of students to his ideas. I consider him one of the most prescient thinkers of the 20th century.
2) Connections was first shown to me, a single episode, when I was a kid. I was amazed, but long forgot about it, and didn't finally sit down to watch the whole show until I was in grad school. After years of studying philosophy and history (and anthropology and the rest) it was a really interesting return to what began it all for me, my love of the study of historical narrative and the deep patterns of humanity.
3) It informed my educational model of the need in History class to focus on depth, using intriguing stories and details to hook students into the essential narratives. It got me interested in other synthesizers, like Carl Sagan, who told big stories.
4) I learned some seriously important lessons about human nature and our ability to make predictions or call the shots on what the future has to offer, what role history plays in society and how it can be used as a tool. I ended up giving a series of lectures on this topic in Singapore, for example, about a year after grad school.
5. The Internet: YouTube
A platform for videos online.
Why is it important?
1) Burke ends his final episode saying, in 1978, that there was a communications revolution just around the corner, and that it was going to come out of the computer. How right he was. But this revolution has made things very problematic for historians. A history of print media, for example, gets exponentially more difficult as you cross from the popular heyday of novels in the 1800s to the insane volume of material in the first few decades of the 20th century. A history, today, of the internet seems impossible, beyond covering its earliest development. Post-2000 it would all be too much.
2) YouTube supposedly gets about 100 hours of videos added every minute. It parallels the trends of having grown up with the internet. You were at one point able to catalogue the most popular memes of the early Net. No longer. As more people joined, the community became too big and unwieldy. Viral hits used to get a million or so views, and maybe talked about for weeks - still a relatively short time compared to books, video games, or movies. Now a million views is quaint, and not unusual for basic user-created content.
3) All of this troubles me, as a historian. YouTube is the best example, but we see it increasingly in movies and television as well - there's too much to keep up with. The quantity of broadcast media has, in my lifetime, matched the problematic volume that print media took four centuries to reach.
4) Still, YouTube has created some interesting new formats and video art forms. The somewhat interactive nature of it is typical of our 1990s hopes for the Net: talking with people on the other side of the world in real time. Live chats and live broadcasts, the infamous comments section, and so forth, all adds to the communal feel, while also remaining significantly private.
5) I recall a friend, a couple of years after grad school while teaching in CT, calling me over in a hookah bar to watch a weird video of a guy making what he thought were fox sounds. About a week later the video, which when we watched it had a couple thousand views, had become a viral sensation. Social gatherings back then often involved gathering around the screen to watch YouTube. They were basically viewing parties. Vine could be experienced this way as well. But that was in 2013. Five years later, and nowadays I would never imagine friends gathering around to watch a YouTube video. You still occasionally show videos to friends, but only rarely. It no longer commands the entertainment novelty, and furthermore being part of something viral has lost any previous social cache and relevance.
6) As I moved into my adult career, YouTube became more and more important. I use it in the classroom. Some pioneers have scrambled to stay on top, and as a result the content creators of note have become celebrities who my students idolize. The fact that I went to school with Mike Rugnetta of Idea Channel and Crash Course is a lot of cool points. Watching an episode of Odd1sOut will pay dividends in relating to my students. Vine was really good for this too (RIP). Some creators sank to obscurity (almost tragically the old cast of Sourcefed Nerd is trying to reunite, but their day has long since passed) just as some actors couldn't make the leap from silent films to talkies. These sorts of developments and transitions, while paralleling certain other media, are happening much faster, though.
7) On a personal level YouTube became how I watched Jon Stewart's Daily Show (and then Colbert's Late Show) as well as getting into things like ASMR and watching BBC and other TV shows like QI and Would I Lie to You, John Oliver, etc. It's how I watched stand-up comedy. Some of its unique content has become favorites (Don't Hug Me I'm Scared, etc.) It has, consequentially, taken more and more of my time over the years, originally something to browse occasionally, and now a key part of my week. I read less, watch fewer movies, and listen to less music because of it. Not a good thing, perhaps.
8) Tribalism can be directly related to this over-saturation of media, I think. Everyone has their own self-perpetuating communities, and so we get in our bubbles and rarely emerge. The Net went from let's talk and share ideas, to seeking out our own favorite things, creating patterns of addiction from social media, to watching and following increasing amounts of content that reinforced our interests; like the progression from a radio broadcast in the living room to listening to a mix-tape on your Walkman. It has helped to isolate us more and more.
I grew up as a child with glimpses of an intriguing world, a world of exotic lands and strange places. As I grew up I discovered there were subcultures, fringes, narratives that veered and shied away from the mainstream, potentially intriguing mystery worlds of an already fascinating human experience. In my adolescence, though, and going into adulthood, I stumbled upon a rational order, the sort of Deep Magic the type of which C.S. Lewis would write about. There
were
patterns, logic and an order to things. The most sacred and fundamental aspects could be explained, categorized, and studied. I underwent my own Enlightenment, of the European mold, questioning everything, discovering answers, and figuring it all out - not just one small area of expertise, but the whole of human experience. Devouring the classics and feverishly counteracting the very lessons they were striving to impart. Into my professional career I balanced these counteractive forces, found others who knew the secrets and saw civilization the way I did. But then it started to unravel at the seams. Content became unwieldy, too much, exponentially unmanageable. The patterns were now computer algorithms, and I had no stomach for math. Overwhelming quantities engulfed the historical narrative. To try to write a history of something like YouTube would be a folly. Media has now become more a part of my life than ever, but it is equally problematic.
It has become impossible to gauge cultural touchstones, such as Birth of a Nation or Forrest Gump, To Kill a Mockingbird or Harry Potter, Sgt. Peppers or Nevermind, The Twilight Zone or The Simpsons. The 90s were the last full decade of that sort of cultural capital. By the mid-aughts it was already starting to get out of control.
And the viral memes and videos added almost nothing to our conversation.
There's nothing thought-provoking about cheeseburger cat, the dress, or laurel vs. yanny. Even the basic internet meme shorthand, developed early on in Web 2.0, has come to an end. I drew the Not Sure If meme on a student's paper, which would have been immediately recognized by students a few years ago (even though the confused image of Fry would have already been a years old reference) but now it elicited nothing but confusion and puzzled looks.
It has inadvertently made for a lonelier media landscape. Only a few really big cultural mythos in media have any rallying force - The MCU, Star Wars. Even the biggest YouTube stars, PewDiePie, Smosh, etc. are just celebrities - like Will Smith or Beyonce. They have their followers. They rarely make globally-important history.
My life has come full circle, returning to the discombobulating, disconcerting topsy-turvy world of my Three Caballeros-infected childhood. Little make sense, patterns occasionally seem present, only dissipate and reemerge in strange unexpected forms. There's too much to try to understand, and it would only scratch the surface even if I got a good glimpse.
My media journey has taken me on a journey from confusion, to sure-footed certainty, and back again - an exercise in all-too-human futility.